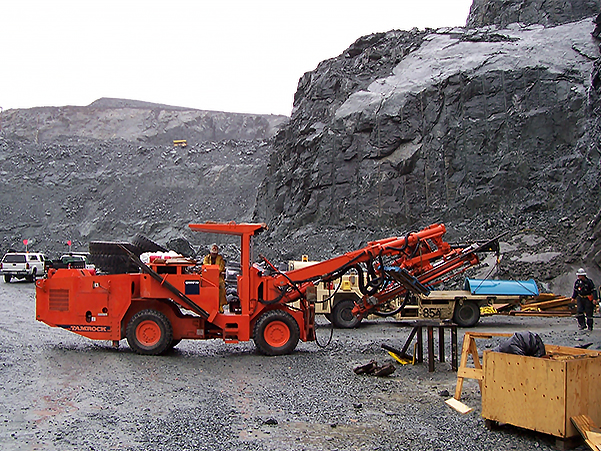 Case description
A mining contractor was developing an underground ramp through otherwise competent rock conditions when blasting exposed an ungrouted diamond drill hole from the surface that flooded the heading a substantial distance from the face.
The mining company engaged Peter White to travel to the site and supervise grouting operations to seal the flowing drill hole so that ramp development work could resume.
Solution
After assessing site conditions, Peter worked with contractor personnel to rig a rock bolt jumbo to mechanically install an inflatable borehole packer within the flowing diamond drill hole. This packer installation procedure was successfully accomplished using the drill jumbo without exposing any personnel to hazards associated with working directly beneath a high volume, cold water inflow.
After the packer was installed, a heavy cement grout was mixed on site using 2% calcium chloride as an accelerator. The required grout volume was calculated based upon the drill hole diameter and length.
After the required grout volume had been pumped into the drill hole, a final batch of cement grout was prepared by eliminating calcium chloride and substituting sugar as a retarder to prevent the cement grout from curing within the inflatable packer at the bottom of the borehole.
By observing samples of grout that were collected as the grouting work was underway, Peter was able to determine when the accelerated grout mixture had cured adequately so that mining crews could recover and clean the inflatable packer for subsequent use.
Mining crews were then able to resume regular development activities within the ramp.
Photo Gallery