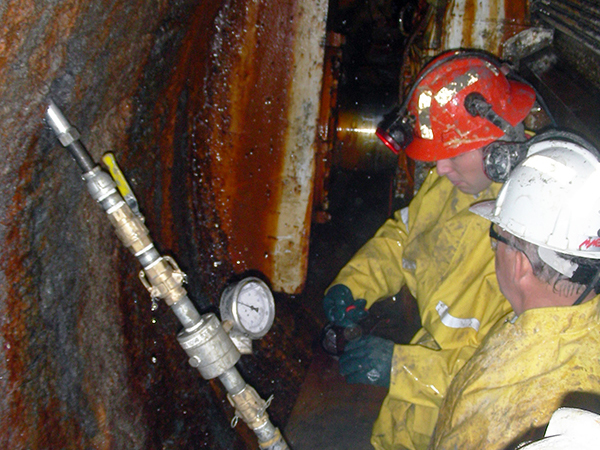 Case description
A tunnelling contractor contacted Peter White for technical support and grouting expertise to assist with a tunnel recovery operation to control unexpected water inflows and difficult ground conditions.
The contractor had successfully excavated approximately 1.5 km of a planned 4 km watermain tunnel with a TBM. Unexpected high volumes of water began to enter at the tunnel face as the TBM passed through a shear plane and ground conditions rapidly deteriorated, so tunnel construction was stopped until remedial measures could be implemented.
Solution
Peter White designed the grouting plan and worked with the tunnelling crew to seal the source of the water infiltration and secure the tunnel face. A series of holes was drilled near the tunnel face for injection of cement and chemical grout.
The grout formulations consisted of both cement and chemical grouts to achieve water control and ground improvement in the vicinity of the TBM.
A cement grout curtain wall was also constructed ahead of the tunnel face to secure the surrounding area prior to future tunnel advancement.
Upon completion of all grouting work, the TBM resumed advance and completed the tunnel without encountering further water inflows.
Photo Gallery